Elisa's wish is my command. Here is the Inca Wool I got from the Webs garage sale. It was really hard to get the color of the orange right in the picture. It's a nice spicy pumpkin color. Apparently its elusive beauty cannot be captured by new fangled technology and must be experienced in person. Those wacky Incans.



I went digging through my stash to find something comparably soft. Like a chimpanzee, I rubbed the yarn on my lips and cheeks to get a good feel for it.


After much deliberation and a handful of ants from a stick, I have decided it's about on par with Cascade Quatro (same stuff as 220, I think). Maybe a teeny bit less soft, but still very wearable.

Here is a brief look at a few of the treasures in my stash. The melon-colored stuff is the Quatro, a very fun and fruity combination of colors.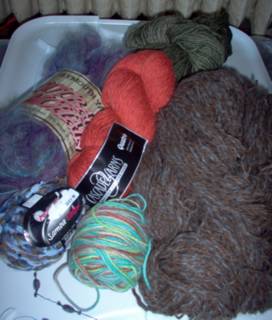 The little ball in the front with the lumpy bits is Austerman Samoa Color and it's as soft as kitten fur. Pretty neat as far as novelty yarn goes. I got it on sale at The Knitting Room in Arlington and couldn't bear to keep in inside the bag on the drive home.

The multicolored ball next to it is cashmere from Dannette Taylor's eBay store. There's only a little, so I don't know what to do with it. It was part of a set of all kinds of yarns, she has some really neat combos.

There's some Plymouth Outback Mohair in Mulberry Sky that I love. I made a couple of shawls with it (one for me, one for my mom) and it's great stuff. Warm and fluffy, comes in pretty colorways, and Elann often has it for cheeeeep! They don't have any right now, but when they do, don't think - just buy!

The green stuff in the back is kettle dyed merino wool from Serendipity's eBay store. I used their yarn to make my Sophia also. They have an amzing array of colors and the prices are very reasonable. Check them out if you're still allowing yourself to use eBay.

Hmmmm, what else. Oh, only the most beautiful yarn in the world. Yep, that's right. It's undyed alpaca from A Touch of Twist in Schenectady, NY. I got it at a knitting convention in NH. The yarn is brown and gray alpaca twisted together and the color name is "Stormy Skies". This is just about the softest, most luscious yarn I've ever felt and I love the idea that there are some llamas walking around wearing their fur in exactly this color. If I remember correctly, it was $20 for 600 yds (could have been more, but not much). Unfortunately, they don't have a website, but I think you can order from them over the phone. I feel weird about posting their phone number for some reason, but a quick Google search on their name will reveal it quickly.

I worked from home again yesterday and this is what it looked like for most of the day (this is Chi Chi).



On the knitting front, I'm working on the sleeves of the Manly sweater. It's slow going because I've been really busy with work and social stuff. I planned on spending all day today knitting in peace, but instead I have to work. Bleh. At this pace it'll never get done. I just need a couple of solid days worth of knitting time and I think I'll get it done. I'm going to tackle the Ostrich Plume shawl from Wool and Fiber Originals next.


It has charts and stuff. Should be interesting . . .