And now a special report from our Action News team!
According to anonymous sources, something very strange happened recently at a local residence. Our investigation team went to work!

The location of the suspicious activity is pictured here. This medium-sized cardboard box was filled to the top with Styrofoam packing peanuts. Impromptu forensic testing proved that these were not the kind of packing peanuts that disintegrate when licked. After getting a glass of water, the investigation continued. There was no forced entry into the box, so it was determined to be an inside job. Someone familiar with the residence and the location of the box was involved.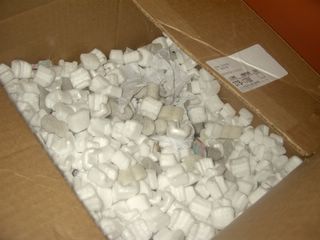 The scene was graphic in its untidiness. Peanuts were strewn violently at the base of the box. Specialists were called in to study the peanut spatter. No specific patterns could be established, so peanut placement was presumed to be random.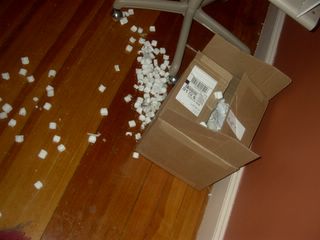 Amazingly, a suspect was found almost immediately. The first 15 minutes of any packing peanut incident are the most important. We were first alerted to the culprit by the conspicuous trail of packing peanuts leading directly to her. She was resistant to questioning and refused to acknowledge us.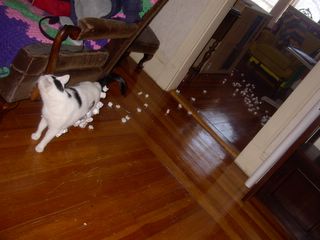 Her guilt became painfully obvious when we followed her with our camera. The dry winter air combined with her soft fur would be her undoing in the end. She continued to deny any involvement in the incident and we interviewed a number of suspicious residents who may have been present. All maintained their innocence and disavowed any knowledge of the troubling event.



It wasn't until we were able to obtain this dramatic crime-scene footage from a nearby security camera that any of them admitted their involvement. All suspects have been detained and will be held for questioning for an unspecified length of time. Absolutely no treats will be issued.