These Little Piggies Live Large
Today I have shoe porn for you. Charlene and I are going to Spain early in November (more about that in the coming days), and I needed some good shoes to traverse the narrow streets of Seville.




No, wait, wrong Seville. I meant this one. The one littered with frilly Flamenco dancers.




I also needed some to stroll in the rolling farmlands surrounding our pension in Andalucia.




Sometimes when I look at that picture, I think I'm just going to pass out from sighing so much. I mean, should anything be allowed to look so peaceful and welcoming? ~sssiiiiigggghhhhhhhhhhhhhhhhhhhhhhh~

*thud*

Whoops! There I went. OK, enough fooling around. I'll write all about the trip soon. But for now, let's get to the good stuff. New shoes. I've finally decided that I'm done spending smaller amounts of money more often on cheap, crappy shoes that fall apart after the first couple of weeks. I will never again slip my feet into what smells like a pair of day-old carcasses. And no. More. Blisters. EVER!!!! Nope, I'm going to spend that money on fewer pairs of well made shoes that will last longer and provide more support than a couple of empty Kleenex boxes.

And so I started this magical shoe odyssey with Dansko, the mother of all comfortable shoes. I give you – Folly. This photo isn't all that great, you can see them a lot better on their website. One of the things I love about Dansko is that they come right out and call it a bowling show. A lot of companies would shy away from this comparison. I happen to love the look of bowling shoes, which is why I picked them out immediately. These babies are right up my alley. har har.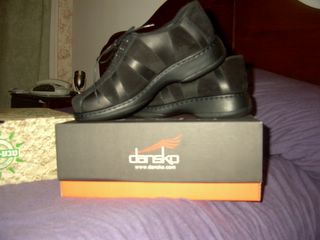 And then I stumbled upon the NAOT display. Wow. Comfortable, practical, and most of all, adorable. May I introduce Camila. These are like hugs for your feet from the second you put them on. They have a removable cork insole that molds to your feet. When it wears down, you can just get a new one. Amazing! I love the little pattern on them, and it's highlighted with a bit of stitching for extra fancy goodness. I really liked them in brown, they look great with jeans. But I also wanted to wear them with a skirt, and as stupid as it sounds, I don't know how to wear brown shoes with skirts. Since I can't pack too many shoes for our trip, I needed a shoe that could be casual or a bit dressier, so I had to order them in black. And yet – the brown were so pretty. So they came home with me, too.




I dare say that these are the types of shoes I'm likely to have cobbled. What a concept, shoes worth repairing. Hot damn! I'm going to take them for a test run at Rhinebeck. Give 'em a little work out to break them in.

But the day of decadence didn't stop there. I also happened to be in Porter Square, so I popped into Mind's Eye yarn shop and nabbed a little treat for myself. I got three balls of Marks and Katten "Dream". It's got just a pinch of angora, hopefully not enough to make my nose twitchy, but just enough to make me want to pet my future scarf all day. I set up a little threesome to show just how hedonistic I was feeling after buying such lovely things for myself.




And then Mike got bored with the shoes and the yarn, so he brought his toy to the door and said "Heeeeere's Mikey!" in a very sinister way. He also claimed that all work and no play makes Mike a dull boy, so I decided it was best to do as he said.